Every once in a while, Dustin tells me I should blog more. To which I usually reply, "I'm a coder not a blogger". Who do I look like, ARDELL? (she is the ultimate blogging machine isn't she? Notice, how I used the bold for the branding). However, despite my objections, he is correct. So I'm going to try blogging more often with a less time consuming off the cuff remarks style, instead of the thoughtful essays I usually favor.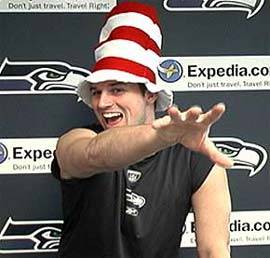 Are you ready for some football?
OK, the 2006 NFL season is upon us and with the awesome success of the Seattle Seahawks (and the less than mediocre success of my 2005 fantasy football team), it's time to regroup and prepare for my fantasy football draft. So does the blog-o-sphere have any draft advice for who'll be this years new star or big bust that might be found? Any good fantasy site or blogs you guys like? Will St. Reginold (aka The Matrix) will be rookie of the year and rescue New Orleans? Will Alexander the Great break the Madden Curse? Will our beloved QB continue his evolution into the next Steve Young or merely join the hair club for men (or both)? Will Arizona be worthy division rival? (Perhaps "The Swann" would know the answer to that question?) Is there a RedFin / Zillow fantasy league I can sit in on?
ComponentArt's Grid Control – Oh yeah baby!
I recently purchased a copy of ComponentArt's Web.UI 2006.1 for ASP.net. So when I get some more free time, my favorite MLS search tool is going to get much better. Just for kicks, I integrated the Grid Control with the search results page on RCG Search and I'm very happy with the results. Any way, if your a professional web/software engineer that writes applications on ASP.net, I highly recommend it. I also considered Telerik's r.a.d. controls, but I like ComponentArt a little better and they had a 10% off sale earlier this month, so they got my cash (Telerik may still get some though, they also do excellent work). I also looked at eBusiness Application's AJAX grid on Dustin's recommendation, but it didn't have ASP.net 2.0 support that I desire and I felt it didn't compare favorably with the best ASP.net only toolset vendors. Still, it looks like a great PHP grid control.
PS – I want to thank Gordon Stephenson & Jay Young of RPA for the ton of work they've been giving me, so I could afford this awesome addition to my software war-chest.
Live from Redmond
In other news, I decided to drink more Kool-Aid and I created this blog post using the new Windows Live Writer. Everybody knows I love MS tech, but who names these things? Names like that remind me of the Microsoft iPod video and the Office Dinosaur ads (Shudder). At any rate, it's kind of like Word for WordPress. It's a desktop based blog posting editor. It appears to support every blog platform that matters (Windows Live Spaces, Blogger, TypePad, WordPress, and many others) and is better than most of the web based editors out there. Among it's cooler features is auto-save (you don't lose your post in case your web browser or blog posting app crashes), MS Virtual Earth integration (including Bird's Eye images). Just find a map or image you want to insert, click OK, and a thumbnail is placed on your blog post (like that lovely photo of Qwest Field you see in this blog post).  So to paraphrase Dr. Suess…
Me: "You do not like MS Live Writer, so you say? Try it, try it, and you may. Try it and you may I say."
Bloggers: "If you will let us be, We will try it, you will see"
There, that off the cuff post only took 3 hours of editing, revising, linking and tweaking…
Sigh, how does Ardell & Dustin do it? Maybe I need to link less and bold more? I'm going back to my compiler now, I'm a much better coder then a blogger.
Here's to football! Go Seahawks!