Gone are the days when you can advertise "must see!" to sell your home, as if people have to come into your house as the first step in the home buying process. You can scream that from the roof top all you want, but unless you have a location that would cause anyone and everyone to come to and into your home, it's all about the photos.
So where do your start? You start with The Three Basics – Paint -Floorings – Clean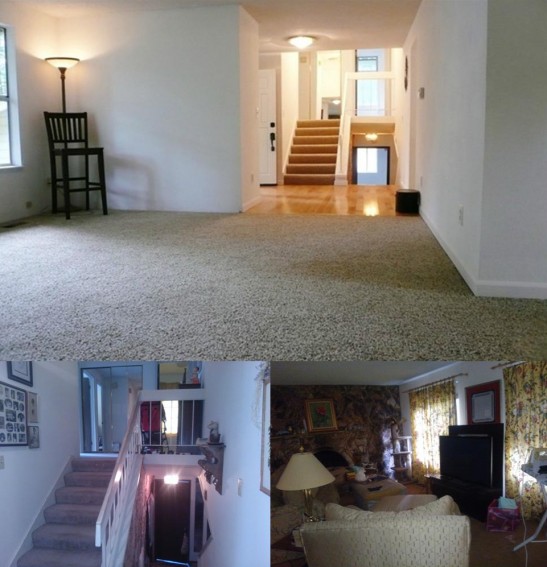 Once you have your walls and floors together (see post linked above) you move to taking your "test photos". Once you know which angles will end up in the 15 Photo Display, then you stage those "photo areas". because it's all about the 15 mls photos!
The cost to stage the above townhome was $2,500 BUT I staged it myself within the cost of Listing the home. I used that $2,500 as follows. $1,500 to refinish those now gleaming, satin finish hardwood floors on the main floor and $1,000 to have the place painted. We also put in all new carpet and the $1,000 to paint was for the main pro painter and did not include the prep-tape-helper. I use a painter who let's me bring the "helper" myself, to save on cost.
Of course there are whole HGTV shows devoted to ALL of the steps that lead to FIFTEEN GREAT MLS PHOTOS.
I just try to give you a snapshot of the process…one blog post at a time. Both of the above homes are recent. The top one closed in December of 2012. The lower photos are of a Pending townhome over in The U-District. The top one sold in 1 day, the lower one in 2 days. The top one took SEVEN WEEKS to get ready for market. The lower one about THREE WEEKS.
So "SOLD IN ONE DAY" took from September 7th to October 25, 2013 to get it ready to list…and sold on October 26th as to Offer and Acceptance. The lower one "SOLD IN TWO DAYS" took from January 6, 2013 to Jan. 26 to get it ready to list…and sold on Jan. 28 as to Offer and Acceptance.
A few recent real life examples…to give you an idea of what it takes to get your house from Day One to SOLD.