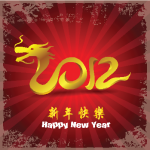 2012 is the Year of the Water Dragon, quite a visual! While Chinese Dragons don't necessarily breathe fire like European Dragons do, I still like the idea that the Dragon is in a Water Year. 🙂
My youngest daughter, Andrea, was born in the Year of the Dragon. The center is a painting she did that I thought was appropriate to the occasion.
Lots of ENERGY in The Year of the Dragon…just grab on to it's tail and FLY!
Happy 2012!