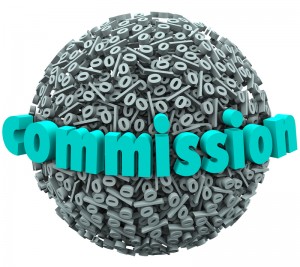 [This post updated 12/2014 and 3/2016 and 9/2016]
This post is not legal advice. For legal advice, consult an attorney in person, not a blog.
Originally, all real estate agents  represented only the seller. The "listing" agent signed the contract with the seller that entitled the agent to sell the house and earn a commission. This agent worked for and had a duty to the seller, of course. The listing agent informed other agents about the house now available for purchase by posting it on the Multiple Listing Service.
Another agent, the "selling" agent, would see the listing and show it to a potential buyer. Even though the selling agent then assisted the buyer in purchasing the property, she actually — and legally — worked for and owed a duty to the seller only. Upon the sale, the listing agent would split the commission required by the listing contract with the selling agent. After all, they cooperated in making the sale.
The system made sense – least back then – as an efficient way of selling property. Some agents today still look at commissions in this light. As James Melanowski, an agent, said in a recent comment (#20):
There is one commission. I get paid x% to sell your property and with that x% I will do everything in my power to do my job. That may include paying a buyer's agent, it may not. I may want to pay that agent y%, y-1/2%, or y+1/2% to bring that buyer to the table. The point is, x% is what you pay ME and it is to do with as I please.
Unfortunately, in the old, historical system – echoes of which are still heard today – buyers usually mistakenly believed that "their" agent represented them in the transaction. In reality, "their" agent, the selling agent, worked only for the seller, and the buyers had no representation at all.
With the evolution of consumer protections, many states revised this system. In 1996, Washington passed RCW Chapter 18.86, which by law altered this arrangement. Since then, in Washington a "buyer's" agent owes a duty only to the buyer, regardless of the source of compensation, while a "seller's" agent represents only the seller. Notwithstanding this new legal arrangement, the term "selling" agent is still used today by the MLS to describe a buyer's agent(much to the chagrin of enlightened agents — right, Ardell?).
But if the buyer's agent now represents the buyer, why is the buyer's agent still paid by the seller? This alone is enough to create a conflict of interest that could potentially impact the quality of the buyer's representation (see RPC 1.08(f)).
There are other implications. A buyer selects her agent and works closely with the agent to find and buy a house, an intimate and expensive proposition. The agent works for and owes a duty to the buyer. So shouldn't the buyer have the ability to decide how much to pay the agent? Under the current system, based on an outdated and no-longer-applicable model of representation, it is the seller — not the buyer — who ultimately determines the buyer's agent's compensation. This leaves the buyer with no ability to match the fee paid with the services provided. Yet most buyers now do their own initial home search themselves on the internet.
In addition, agents can and do represent both buyers and sellers. Thus, they have a vested interest in a system that promises a significant commission for both sides of the transaction. With flat fee listing and FSBO, the listing agent commission has come under increasing price pressure, and indeed it is not uncommon for listing agents to reduce their commission from the previously "standard" 3% (often times as long as the seller will also use the same agent for the following purchase, thus allowing the agent a subsequent and "full" 3% commission).
The "selling" agent commission (SOC), however, is immune from such price pressure given the current business model. Indeed, as Kary Krismer, another agent, said in a comment (#31) to a recent post in reference to a buyer's agent's commission of 2.5%, rather than the standard 3%:
Well, it's not that it's a waste, but it's not a wise decision at all. We'll show buyers 2.5% properties, and have actually had a number of transactions in them. But there are some agents that won't, or that subconsciously might down-talk the property.
Agents may argue that they are "entitled" — or, more accurately, earn — a full 3% given the time and efforts they invest in a sale. But that alone cannot justify this failure to show properties with a slightly lesser commission. After all, even 2.5% is a reasonable — to say the least — paycheck given the average house price (2.5% of $400k is $10,000). Thus, whether consciously or subconsciously, a significant number of agents fail to best serve their clients' interests (by showing them ALL suitable properties and giving honest and accurate advice about each) simply because they won't make as much money.
While that is not absolutely wrong, at a minimum the buyer should be aware of this "limited" representation. How many buyer's agents — who discriminate against SOCs of less than the "full" 3% — have that conversation with their clients? So consciously or not, brokers provide inferior services to buyers where sellers offer less than a 3% SOC.
That said, there is some early downward price pressure on the SOC, thanks to the Seattle startup scene. Surefield, a licensed broker and member of the NWMLS, now offers a $2000 SOC. It is able to do so thanks to its patented 3D virtual tour technology that powers its listings. This "virtual" tour makes it easier to sell the house, so Surefield offers a much lower buyer's agent's commission.
There is the "granddaddy" of Seattle startup real estate firms, Redfin. It's been around for more than 10 years, plugging away at the issue and in the process making it clear that sellers don't necessarily need to offer the "full" 3% SOC. Although the amount has dropped significantly over the years, Redfin still rebates a portion of the SOC to its client at closing.
And there used to be a Seattle real estate firm, Houses,Direct (formerly Added Equity Real Estate, formerly Quill Realty), which was at the forefront of change. Quill withdrew from its local Multiple Listing Service in June of 2015. Since then it was the only real estate firm in Western WA to sell houses without offering a buyer's agent commission. Although that iteration didn't work too well, it is clear that Seattle startups are leading the charge on lowering the SOC!
Finally, because the commission is a transaction cost, it stands to reason that a decrease in that cost will benefit either buyers or sellers or both (either prices remain the same with less costs and more money to the seller, or prices are reduced to reflect the reduction in costs, or both). With the current system, there is virtually no incentive to reduce this cost — or, for that matter even an ability to do so, unless the buyer is willing to forego an agent and either use an attorney or self-represent. Given what is at stake, an attorney is the prudent choice. Some lawyers are marketing themselves to buyers who want to buy without an agent in order to save the 3% SOC.
So, the current commission-based fee structure, based on an outdated and now inapplicable model, leads to increased transaction costs (than what would be available in a truly competitive market) and a decreased quality of buyer's representation. I'd say that's bad for buyers. But changes are on the horizon.
Image above © Iqoncept | Dreamstime.com – Commission Percent Sign Ball Earning Bonus Pay Rate Photo