Well, I've had my own blog for a couple weeks now. So far, I am loving Subtext. Comparing Subtext to WordPress is like comparing a Cadillac CTS-V to a BMW M3. The standard is the still the one to beat, although the race is much closer than you might think it should be. Although it doesn't have the refinement of the BMW, it does have a close working relationship with the Corvette parts bin and has the potential to be a world beater.
However, during that time, I've discovered something even cooler than a V-series Cadillac sitting in my blogging garage and that's the new Microsoft Word 2007. Think of it as the Lexus LS-460 of blogging sedans.
Anyway creating a blog post with pictures is as easy as using Word (and it creates clean HTML markup too). If you don't believe me, the View Source command is just a mouse click away. That's OK, I'll wait…
Now that I have your attention, here's a guided tour of how I created this blog post with Word 2007. First, you need put your keys in the ignition and start your engines (or just start winword.exe using your favorite command shell). After your hard drive is done doing its 0 – 60 MB sprint, you'll see an empty document window.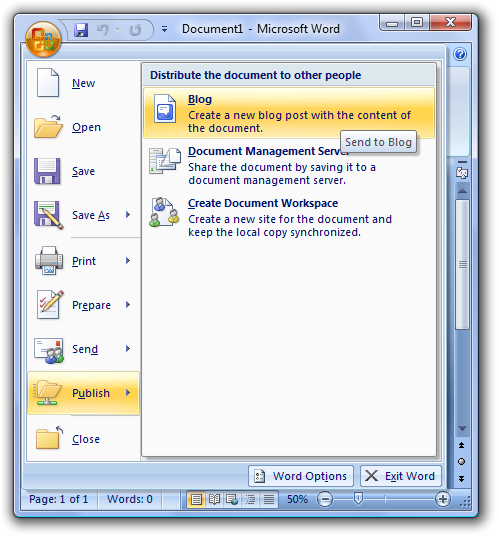 Now you need to click on the "pearl" (aka the Office button), and select Publish – Blog from the menu. Now that you've created an empty blog post document, you need to configure Word 2007, so it'll be able to post to your blog. If it's your first time, Word 2007 will prompt you for a Blog Account, otherwise you'll to click on the manage accounts button in the ribbon (aka where the toolbar used to be) to add your blog. For my demo, I'll add my Rain City Guide account settings.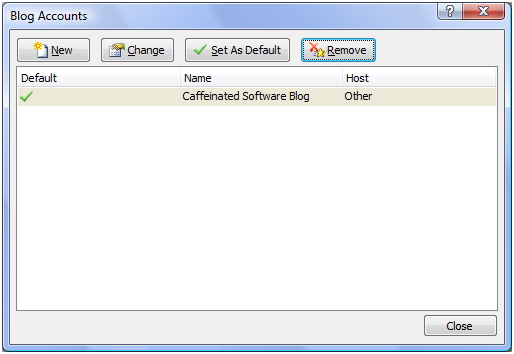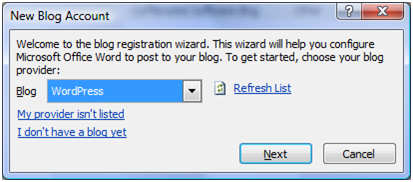 From the Blog Accounts dialog, click New and you'll then see the New Blog Account dialog. Word 2007 has support for Windows Live Spaces, Blogger, SharePoint, Community Server, TypePad, WordPress, and other blogs that support the Atom or MetaWebLog APIs. Since RCG proudly uses WordPress, I selected that and proceeded to the next dialog. (FYI – Subtext uses MetaWebLog)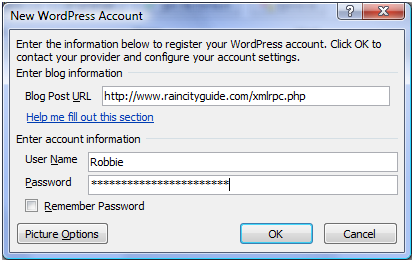 Then on the new WordPress Account dialog, you enter the blog post url and your account info, click OK and your ready to burn some rubber. Since I'm behind on my quota for my blog, I plan on writing a comprehensive review of what Word 2007 can do for your blog on my Caffeinated Blog this weekend.
Anyway, if you're a blogging enthusiast, I highly recommend you take Word 2007 out for a test drive. I usually don't impress easily, but Ecto and Blogjet has some formidable competition now.